WAGNER PROSPRAY GENERATION 3
MATES RATES PROMO – Winter 2021
THE BEST PUMPS IN THE INDUSTRY JUST GOT EVEN  BETTER!!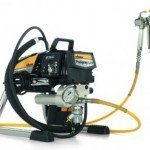 MODEL: PS3.21 AIRLESS SPRAYPACK 
* Max Flow Rate: 2.0 L/min
* Max Tip Size: 0.023″
* Max Pressure: 3335 psi
* Motor Rating: 0.8 HP/ 0.65kW
* Weight: 16 kg
FEATURES: 
*Auto Oiler * Self Adjusting Packings * Push Button Reset On Inlet Valve * Pressure Gauge * Rapid/pulse clean function * Electronic Spray Control/Pressure Sensor * Heavy Duty Suction * AG08 Contractor Grade Gun * Trade Tip2 517 Tip and Base * 15m Airless Hose * High Pressure Filter * Tool Kit
Introducing the 3rd Generation of ProSpray Piston Pumps with the latest innovative technology resulting in….
> INCREASED PERFORMANCE
> SUPERIOR FINISH
> MAXIMUM RELIABILITY
> UNMATCHED VALUE
> LONG SERVICE LIFE
> HIGH SUCTION POWER
> INTELLIGENT DEADBAND CONTROLLER
> UNRIVALLED WARRANTY!!
WAGNER have given this New Generation a one of a kind Warranty in the industry and underlines WAGNER clear leadership when it comes to quality in coatings application technology. This is a standard 3 years plus 2 extra years free when registered.
FIVE YEARS FACTORY BACKED WARRANTY!!

This model PS3.21 is a grunty pump with high suction power and applies unthinned plasterboard Sealer with ease. Try to find a pump in this price range to do that! Look at the features and the Genuine Wagner Factory Backed Warranty with Certificate.
GST Invoice issued.  Nationwide Warranty.
Trust in my over 35 years plus experience in the Airless Industry. WAGNER & GRACO Authorized Sales & Service. Total Support and Backup assured.
Your special price for the PS3.21 Spray Pack is only $2690 plus GST (SAVE $605!)
PLUS choose either or both  OPTIONAL  "Contractor Pack" at additional cost… at time of purchase only.
EXTRA 15m AIRLESS HOSE and joiner, Special Prices;      $129 plus GST.
515 HEA Spray Tip & 310 Fine Finish Spray Tip "Combo" $112 plus GST
Please contact:   Dave Smith
0800 PRO PAINT GEAR or email smithindustrial@xtra.co.nz

Bank account details; BNZ Sydenham 02 0828 0201507 00  Airless Spray Equipment NZ Ltd
# # Strictly Limited to Current "Promo Stock"